Microsoft Word has had long been a standard for document formatting and word processing. However, many years ago I fell in love with Google Docs, and I use it for just about everything:
Project planning & website wireframes
Workflow documentation & training manuals
Logging meeting notes or phone calls
Writing up content / copy for websites, emails etc.
In fact, within my companies I've always prohibited the usage of Microsoft Word documents to write drafts and exchange information between staff, and even with clients I encourage them to use Google Docs instead of Word  – it has its purposes, but not for collaboration. The new collaborative tools doesn't even come close to being as quick, robust and efficient as Google Docs.
Using Google Docs for our team has been a massive time-saver, as well as a great record keeper for concise tracking of projects, and it offers many benefits compared to traditional word processing software such as Microsoft Word.
#1 – No more "Do I have latest version? Can you email it to me?"
Do You Still Ask This?
"Did you get the latest version I sent you?"
Asking somebody if they "received the latest version of the document" is such a 2004 concept. It's 2016 as I write this article, and I haven't played that ancient game of "track down the latest version" in several years. So many people simply cannot get over the fact that they are used to it, and because they know where all the buttons are, they are still using Microsoft Word. However with a cloud system such as Google Doc, any changes you make are saved live, and multiple people can edit the document at the same time (leading into the next point).
#2 – Live Collaboration With Anybody, Anywhere In The World
The video above illustrates it better than anything. You can literally see where your colleagues are editing, what they are typing, and comment & collaborate LIVE as you mutually edit the document.
#3 – Rich Content Editing (images, drawings, tables, headings)
One of the reasons why Google Docs was not received as well (initially) was the lack of support for richer media. However, in the recent years, they have worked on their functionality a lot, and you can easily embed image files, or draw simple diagrams within Google Docs.
Embed images/photos
Create simple drawings & wireframes and insert
Tables, charts and other add-on elements such as LucidChart
Headings, blockquotes, footnotes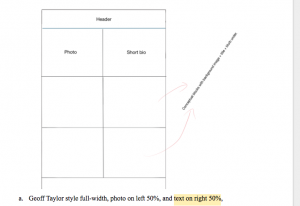 #4 – Varying Levels of Permission & Publish On Web
Depending on the nature of the document, y0u can set many different access privileges for different people.
Some people can edit, while some can only view.
Make it accessible to anybody who has the URL, or by direct share only.
It can even be published or embedded elsewhere for full access.
This degree of robust control is not possible with Word docs being emailed back and forth. No more password protecting certain documents, or having to export as PDF for those who are not allowed to edit a document!
#5 – Full revision history online for all to view and revert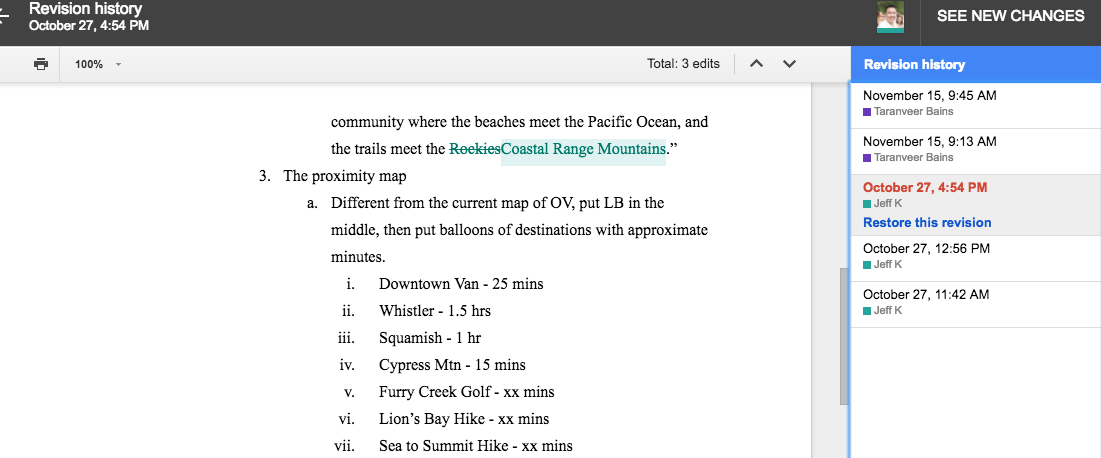 You can view edits made by any of the authors, in chronological order. You can revert to any previous version if you like. This means anything that was previously removed can be added back, and older versions of the text can be referenced upon anytime. Not only is it real-time collaboration, it's a time-machine style collaboration as well.
#6 – Attaches to Asana and other project management platforms
Asana is one of the most well known project management platforms commonly used in many small and large businesses (including my company, Brixwork), and it offers an option to directly attach Google Drive documents (not only docs, but spreadsheets, slideshows, or any other filetype!) to its tasks. Other web-based platforms such as Slack offers a Google Drive integration as well.
Integration with 3rd party applications is one of the greatest strengths we can enjoy with modern web applications – instead of being a jack of all trades and a master of none, each application can do what it does best, while working with each other!
#7 – Accessible On The Cloud From All Devices
Sometimes during meetings I will whip out any Google Drive document from my iPad. On the go, I can open and search for any of my Google Docs on my iPhone as well – and yes, it's also available on any android device. If I were on vacation, and only had access to a public PC at a hotel lobby, I can still log in to view and edit any of these files. The accessibility through any internet connection is a common feature any cloud (web) based software – and Google Docs offers such accessibility.
Also, any document that you are actively working on can be editable offline (takes up more HDD space, and must be enabled by your domain administrator) so you can continue to work on your cloud-based Google Docs while on a flight with spotty or no Wifi.
#8 – Easy to search for anything!
As Google is the master of web searches, I found that searching for specific Google Docs is so easy & fast. Whether by the client's name, or some of the keywords we spoke about ("Facebook and Instagram Widget for John Jones" for example will most likely turn up my meeting notes with John Jones regarding such topics), the search works wonderfully, and it's very easy to dig out previous records or notes from conversations. Searching within the file title & content at the same time is much clumsier with traditional Microsoft Word documents on your hard drive.
I also impose a strict rule on date formats, to always be in YYYY-MM-DD, so that searching for all notes or documents generated on a specific date, I just punch in "2016-11-08" and all notes from that day will show up easily on the search results.
EMBRACE CHANGE
"Change is the only constant in life."
– Heraclitus
Work faster, more efficiently, with less confusion with your team & clients
These 8 factors make Google Doc based collaboration and project planning so much easier compared to the traditional model of emailing Microsoft Word docs back and forth. Eliminate the confusion, and embrace the cloud-based systems to improve your workflow for yourself and your team! The worst thing you can do is to be stagnated with an old system out of old habits unwilling to change.